COMMERCIAL & INDUSTRIAL
Packaging & Production Crating in Pittsburgh
Industrial packaging and mass production crating in Pittsburgh are at your disposal with our quality, professional, and comprehensive solutions. Craters & Freighters has everything you need for large-scale production needs. Our services help just about every industry, and we never shy away from a challenge.
We provide our services to several local industries and manufacturers, utilizing our industrial and commercial skillset to handle mass production crates, custom pallets, and skids, and packaging methods that ensure safety through transportation or in storage, whatever you need.
Our specialists support production operations throughout the Pittsburgh area in a variety of industries; some include:
Aerospace
Automotive and Transportation
Computer Sciences and Technology
Building and Infrastructure
Electrical Equipment
Industrial Automation
We are able to:
Read drawings
Meet all MIL-spec requirements
Custom design and engineer crating solutions based on any asset's specifications
Provide safe, secure packaging, cushioning, and protection solutions
Our industrial packaging professionals and production crating teams offer vast knowledge, experience, and insight, ensuring your project runs smoothly and gives confidence to every client we work with.
Contact us today, and let's discuss how we can help you with your industrial packaging and production crate needs.
Production Crating Services
Production crating requires a particular skill set that our team has perfected. We've helped dozens of businesses and organizations with their mass production crate needs. We first learn about your specific products, equipment, or machinery so we can determine how best to support you.
Our professionals will discuss your goals to ensure we take the proper steps and all timeframes are met. We understand that distribution cannot be disrupted, and our goal is to make this process as quick and efficient as we can.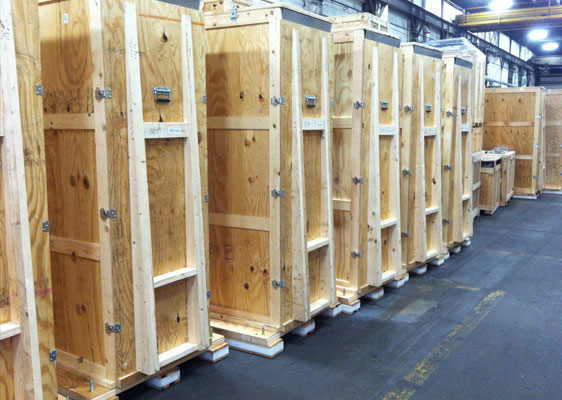 On-Site Crating
Having provided our crating and shipping solutions to various industries, we know that sometimes assets are far too large, heavy, or sensitive to get to our location for packaging. Don't risk their safety or waste your time; we can come to you for on-site crating design and engineering at your location.
Our on-site crating specialists use the same quality materials, comprehensive solutions, and expertise to provide you with the best crating and packaging for your asset, no matter where it's built.
Custom Packaging
Because the protection of your item is our number one priority, we create custom packaging to match it perfectly. We're relied upon by several industry leaders, and we're determined to keep their assets safe, no matter where they're headed, by land, sea, or air. Our team utilizes spec-driven technology, know-how, and experience to find the ultimate solution for your unique needs.
Logistics managers and supply chain operators trust our Pittsburgh industrial packaging specialists to create tailored packaging solutions for:
Build-to-suit equipment
Short-run production lines
Mass-produced products with multiple SKUs
And more

Custom Crating
Finding the best fitting container for your item helps to keep it safe throughout the shipping process. Our crating professionals work with the most complex items, offering custom crating that offers structural support for your industrial assets. To engineer the most responsible crate for every item, we consider size, fragility, weight, and more.
We've customized wooden crates and skids and provided shipping solutions for:
Commercial and military aerospace equipment
Shock-sensitive servers and computer systems
Heavy industrial robotics machinery and parts
Large-scale data centers
Electrical control systems
Modular construction materials
Household and commercial appliances
Conveyors and escalators
Uniquely shaped medical and surgical equipment and furniture
Oversized steel storage tanks and hoppers
Streamlined Shipping Solutions
We know you have a lot on your plate, and finding easy, comprehensive shipping solutions shouldn't take a single minute out of your day. Our Pittsburgh shipping company has all the services you need so you can stay focused on other tasks. We're more than just our solutions; we're teams of logistics professionals and customer service experts, too.
Let us help you with your industrial and production international shipping needs. You'll be glad you did.
Find out more about our shipping services, and let's get your valuables where you need them to be quickly and safely.
Get a fast, free, no-obligation cost estimate from Craters & Freighters Pittsburgh.
Provide some information on your needs and we'll get back to you right away with a figure you can use in your planning.
Proudly serving Western PA, Eastern OH, and Northern WV. Primary service areas include: Pittsburgh, Cranberry Township, Butler, Erie, Altoona, & Washington in PA; Morgantown & Wheeling in WV; and Youngstown in OH.